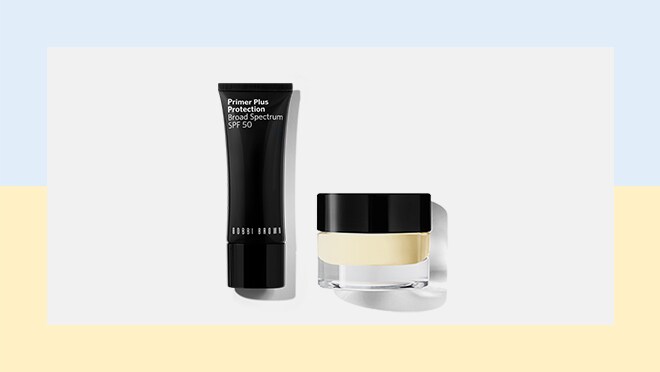 Get a full size Primer Plus Protection SPF 50 (40ml) and a Mini Vitamin Enriched Face Base (7ml) with your $75+ order.
Use code PRIME at checkout. 
everyday offers & services
*Offer starts on 6/27/2022 and ends on 7/1/2022 at 11:59PM PT. Get a Prime & Prep Set with your $75+ order. Use code PRIME at checkout. Offer available to CA residents only. Offer valid only at BobbiBrownCosmetics.ca. There is a limit of one offer to a customer. Only one offer may be applied to each order; offers may not be combined. Applicable purchase amount does not include the purchase of eGift Cards, shipping, handling or sales tax charges, gift wrap charges, items noted as not eligible, or items that are not in stock at the time of purchase. Pro Members and Employees are excluded. Free items are not eligible for returns or exchanges. Allow up to 3 business days for processing and 1 day for overnight shipment. Offers cannot be applied to previously placed orders or to orders placed after the expiration date. We reserve the right to cancel any order due to unauthorized, altered or ineligible use of offer and to modify or cancel any promotion due to system error or unforeseen problems. Ongoing offers are subject to change without notice. Other restrictions may apply. If you have placed an order containing a free promotional item(s) and such order also contains a backordered or pre-order item, in the event that you cancel either the backordered or pre-order item prior to the promotional item(s) shipping, and in doing so the order total is below the promotional offer threshold, you will no longer be eligible for the free promotional item(s), the cancelled item(s) and promotional item(s) items from your order will be cancelled, and you will not be charged. If the cancelled portion of your order was pre-paid, a full refund will be issued for all pre-paid items cancelled.