Redness &
Irritation
Problem:
Redness & Irritation
Solution:
Skin Relief
№80
An intensive solution formulated with powerful skin calmers that instantly helps quiet reactivity and helps keep irritation at bay.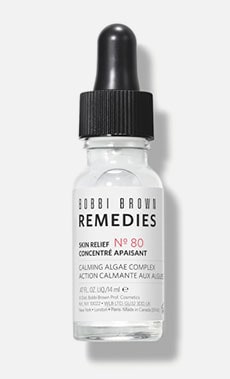 HOW IT WORKS:
Apply 2-3 drops on clean skin twice a day.
Follow with your customized Bobbi Brown
skincare regimen.
Reduces the visible impact of stressors on skin
Helps reduce and fight the appearance of redness
Immediately reduces irritation and helps keep future irritation at bay
Reduces skin damage due to irritation
Ideal for sensitive skin